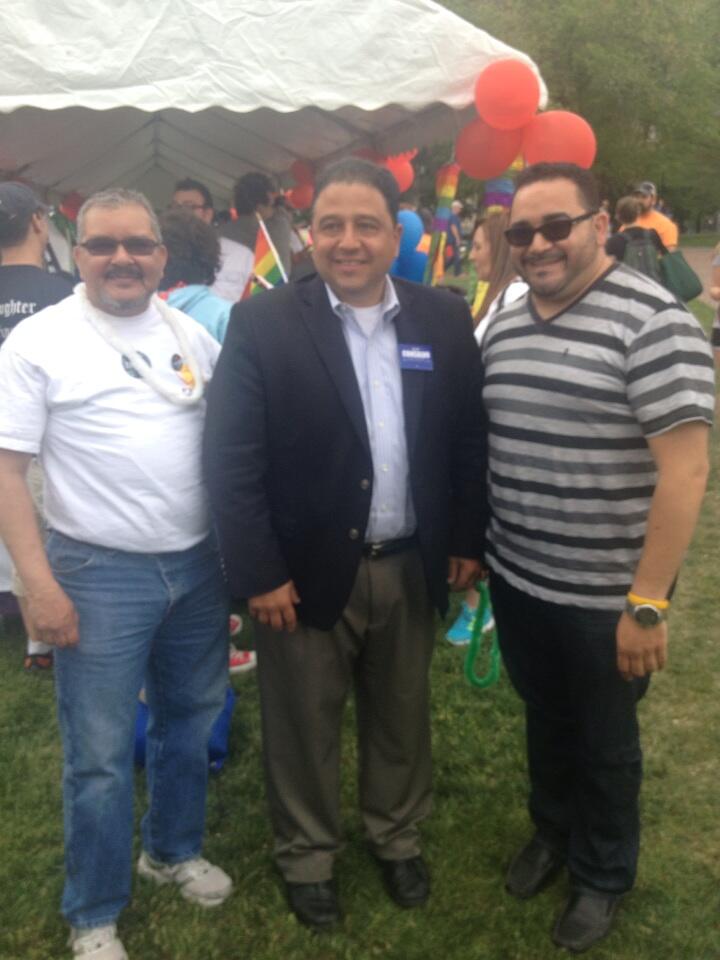 Mayor connections : Hyde Park's Rob Consalvo at BAGLY (Boston Area Gay & Lesbian Youth) event
Mayor Tom Menino's more or less last minute announcement that he would not be running for re-election set of what has turned out to be a mad scramble, by a hurrying multitude, to get to the "final" in which only two will face off. To date there are twenty-four (24 !) candidates signed up, making 1967's eight look sparse. Could 24 people actually all have a chance to get past the September primary ? The answer is yes, for most: because in a four and a half month campaign, anyone can shape up. Usually a run for an office as powerful as Boston Mayor begins well in advance — at least a year before, maybe two. Indeed, as any veteran campaigner in Boston knows, your whole life — maybe also those of your parents and grandparents — goes into making you strong on vote day. Still, all that life history of connections and re-connections needs to be organized and called upon. That this year a candidate will get only 20-odd weeks, no matter who he or she is, grievously levels the odds.
Some things remain the same, however. Candidates holding current office already have made their connections and reconnectiions. They are combat ready. The first battle is to collect 3,000 certifiable nomination signatures. Large organization in place makes it easier to collect at least 3,000 signatures — and to submit them first, because if a voter signs more than one Mayoral nomination paper — and many do — only the first submitted counts. Consider also this : for 24 candidates to qualify for the ballot, at least 72,000 signatures will need to count. that is fully 20% plus of ALL Boston voters. The City has probably never seen such a huge street-level effort.
Probably half the 24 will actually make it onto the ballot. So what comes next ? Already the major eight or so candidates are running all over the city; marching parades, meeting and greeting at eateries, shaking hands at festivals and crowd gatherings, congratulating park League sports teams; holding coffee parties in neighborhoods; advancing an agenda. But does any of this even matter on vote day ? Not many voters give their vote, in a multi-candidate field, to a candidate they happen to meet once, or even twice. Likely they have already known at least one of the "major 8" already and have interacted with him or her. It is difficult for another candidate to overtop a voter's long experience of another candidate. Truly, in local politics, it's an axiom that the longer that one has known a candidate, the more likely he or she is to vote for that candidate.
The force of this axiom is likely why the "major 8′ are spending so much time right now acmpaigning to communitiues of voters — LGBT and allies, Haitians, Cape Verdeans, Asians, "new Boston — who for the most part do NOT have long connection with Boston politics. If the long-connected voters — the "traditional" voters of Wards 6, 7, 16, 19, 20, and half of 18; and the "new Boston" voters of Wards 4, 5, 8, 9, 10, 11, and 21 — are pretty much already "in the bag" for one or another of the "majors," then it makes sense for them to seek out whatever they can bag up from the less connected communities.
Less connected voters also means "issues" voters. Voters who may not be able to say to a "major", "geez, I knew your Daddy back in the West End — great guy," for example, can judge that candidate's stand on the issues. Thus the rolling out of agendas, that we have already seen from the canniest candidates: Dan Conley (gun control; citywide casino referendum), Felix Arroyo (labor rights), and Marty Walsh (education).
Canny candidates have also sought, smartly, to demonstrate that however they may be "based" in a long-connected community, they have the respect and support of leaders of the less connected. thus Charlotte Golar Richie, African-American of Dorchester, parades endorsements by State Reps. Michael Moran of Ward 22 and Aaron Michlewitz of Wards 3 and 8, and the Callahan Brothers of Ward 2. Likewise Marty Walsh, Irish-American from Ward 16, has the support of openly gay State Rep. Liz Malia of Jamaica Plain. City Councillor John R Connolly, too, strongly based in ward 20, has a house-sign campaign going on all over the city. Almost certainly the other "majors" will, if they can, announce similar cross-community support.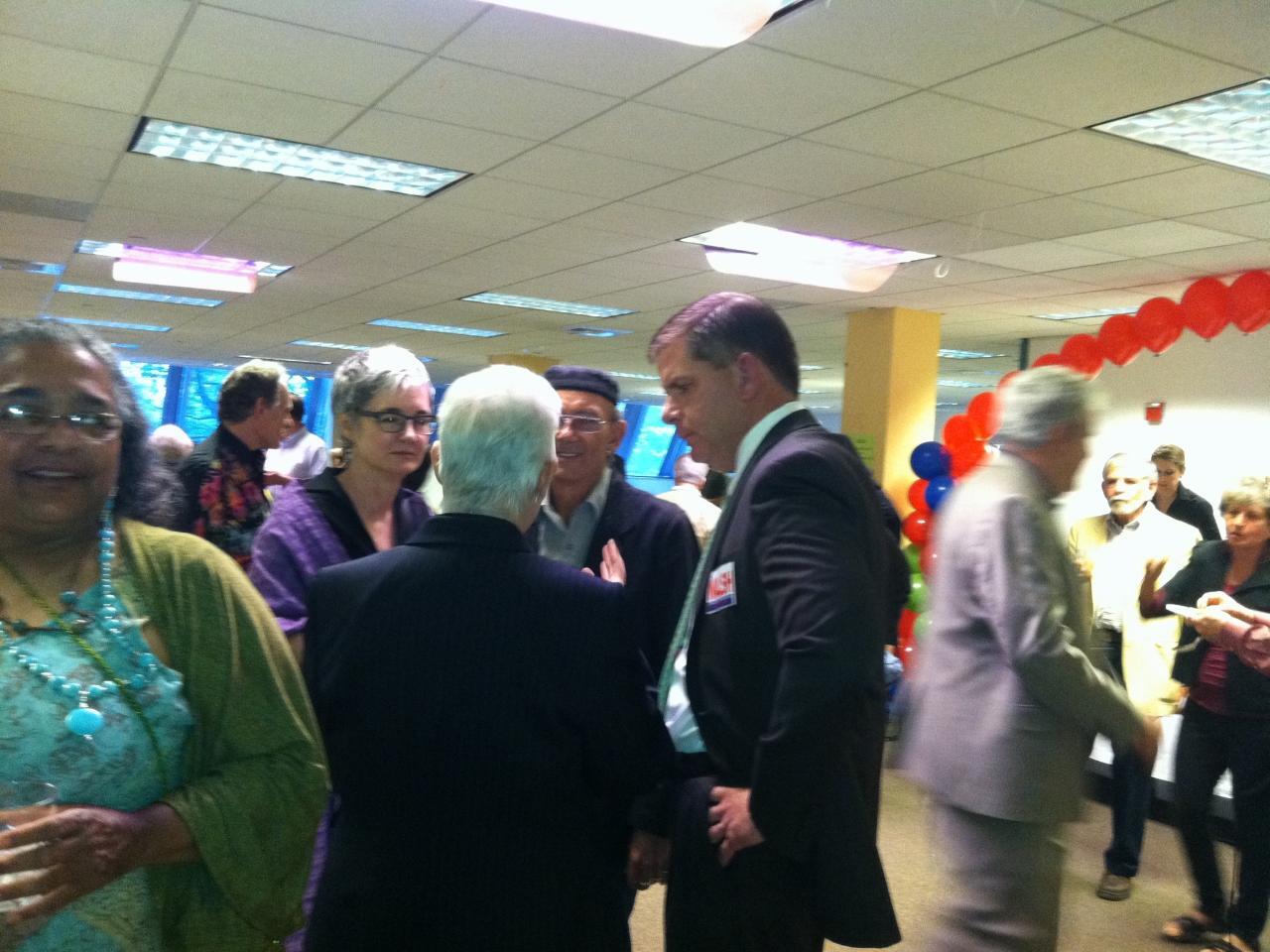 Ward 16's Marty Walsh greeting City Life / Viuda Urbana supporters at the SEIU Hall.
This, then, is the exciting phase of the Boston mayor campaign. watching the city's long-connected candidates dig deeply into its less-connected communities enhances the city's togetherness and makes everyone feel that he or she counts in the halls of power. It is "retail politics" at its truest. It's also a campaign phase that didn't exist until Ray Flynn made it happen in 1983, as a South Boston guy campaigning among Jamaica Plain lefties. Before Flynn, Boston mayor races were combats of the powerful versus the powerful — the less so didn't matter much and were, in fact, often pushed out of the city entirely by "urban renewal." And Flynn himself had already worked with Jamaica Plain activists on Logan Airport issues, specifically approach run overflights of residential areas. This year, the "majors' are seeking out the less connected voters no matter what, for their own sakes. This year, the less connected are being welcomed into the halls of city power.
—- Michael Freedberg / Here and Sphere